Suspension Packaging

Provides valuable or fragile products with unparalleled product protection throughout the shipping cycle-even after repeated drops.

The design suspends your product away from impact, providing consistent protection for fragile products even after repeated drops

The tough and resilient suspension packaging film retains its effectiveness for return shipments and multiple uses

Compliments your product's appearance, combining outstanding cushioning protection and attractive presentation

Easy to use and simple to assemble
Retention Packaging
Korrvu® Retention packaging provides simple and cost-effective blocking and bracing protection, showcases your products and is suitable for a wide range of applications.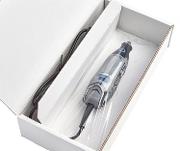 Korrvu Select Program
Korrvu® Select packaging provides proven product protection and maximum versatility in a range of sizes and easy to use solutions featuring Korrvu® Retention, Korrvu® Suspension and Korrvu® Lok™ packaging designs. The Korrvu® Select program offers a fast, effective, high performance solution that meets the packaging demands of a variety of products and packaging applications. No minimum order quantity, no setup fees or additional equipment required.
No minimum order quantity - no setup fees or additional equipment required.
Source reduction - eliminates the need for additional void filling or wrapping
Dynamic packaging - uses strong, highly-resilient low-slip film to surround products, protecting them from shock and vibration by ensuring your product holds centre place inside the box
Korrvu Lok
Korrvu® Lok™ compression packaging is a patented solution for shipping products when presentation and customer experience are key. The unique design utilizes a low-slip film that positions and secures your products to a corrugated backing, which guarantees that your customers will enjoy a retail experience out of the box.

This versatile design can pack multiple product SKUS, while providing damage-free delivery.
Easy to use and assemble, it can increase packing speeds and the transparent film can improve accuracy.
Easy to open, easy to re-use for return and recycle
Strenghten brand image with custom printing options
7/10 people respond well to product presentation over any void-fill carton.
31% of consumers think highly of brands that use printed Korrvu®.
95% of online shoppers believe that Korrvu® provides the best protection.
Applications:

Damage Reduction: Provides high-performance protection that is reusable for damage-free returns. Anti-theft features enhance loss prevention and mitigate claims.
Fulfillment Velocity: Facilitates picking into the box increasing packer speed, transparent film reduces errors. Automation available for centralized operations.
Cube Optimization: Dimensional weight is reduced through the use of structurally reinforced lightweight materials and the elimination of excess packaging materials.
Customer Experience: Offers a custom designed package that is easy to open and presents the contents with no additional packaging material and suitable for returns.
Intercept Technology Anti-Corrosion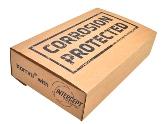 Korrvu® anti-corrosion packaging with Intercept Technology™ reacts and bonds with corrosive gases, creating a neutralized atmosphere that protects your product without off-gassing. The one-step Korrvu® with Intercept Technology™ method requires zero additional materials and takes a few seconds to secure and protect your product.
Long term, contamination free corrosion protection
Permanent, humidity independent ESD protection
No volatiles – does not outgas
Safe for all metals
No chemicals, safe for handlers
Prevents mold and mildew
Reduces rejections – keeps items pristine